Garden Furniture Treatments & Finishes
Rubio Monocoat offers a complete package for anyone looking to bring out the natural beauty of their garden furniture. Our range of treatments are designed to provide superior protection, making your garden chairs, tables, and other furniture look excellent for years to come. We have a range of products that clean, colour and protect your exterior furniture. Browse our range today!
Long-Lasting Wooden Garden Furniture Oil

Colour and protect your wooden table in one single layer with our environmentally friendly, 0% VOC wood table oil. Our oil solution is permeable and allows the wood to breathe naturally, while also making it easy to repair and clean. Available in a range of colours, this product is perfect for any kind of wood that needs long-lasting protection from wear and tear.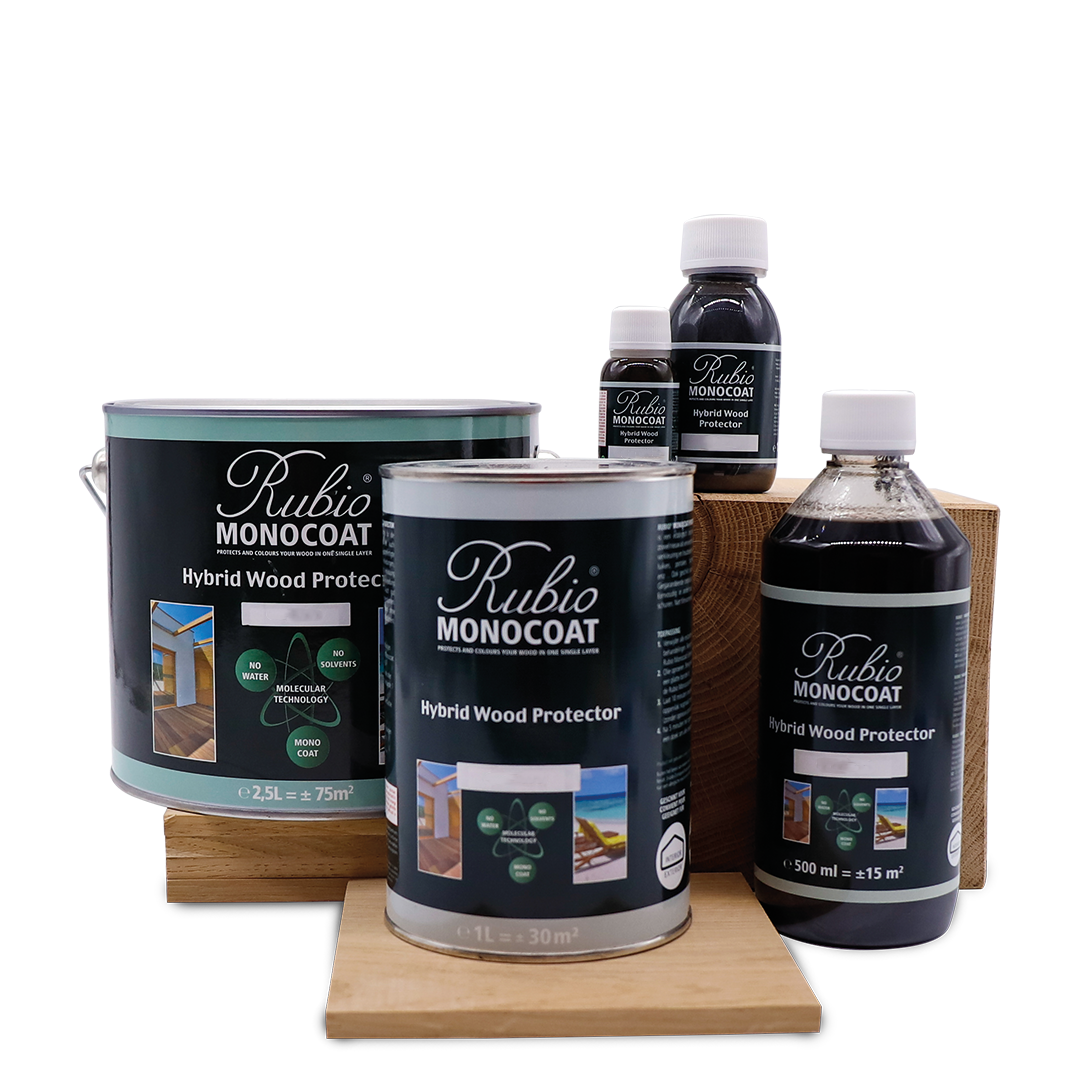 Step 1: Remove all residues of old applications (if necessary)
Remove all residues of old application by sanding the surface scratch-free (end with a screening net 80 or 120). With new wood it is sufficient to just clean the surface with Exterior Wood Cleaner (see next step).
Step 2: Clean the surface with Exterior Wood Cleaner and let it dry
Dampen the surface with clear water. Use a garden hose. Apply some Exterior Wood Cleaner. Scrub the treated area with a nylon scrubbing brush in the lengthwise direction of the wood. This will cause the product to foam. Rinse thoroughly with clear water until all the foam has disappeared. Allow the surface to dry thoroughly (until there appears to be uniform drying and it is dry to the touch).
Step 3: Apply Hybrid Wood Protector
Stir the oil thoroughly before use. Add 10% Accelerator to the oil and mix well ( measure the quantity precisely!) Attention, the mixture of A and B can only be used during 4-6 hours. So be careful and only mix the amount you'll need in that timeframe. Apply a layer of Hybrid Wood Protector with a flat paint brush (e.g. Brush Standard 60 or Brush Standard 220).
Step 4: Leave to react
Leave to react for 10 minutes and then smooth out the surface again with the same brush (without applying new product).
Step 5: Wipe off excess product
After 5 minutes wipe off traces of excess product with a piece of cloth.
Step 6: Let dry for 24 hours
Let dry for about 24 hours. Complete curing takes place after 7 days.
Looking after your garden furniture
Aftercare is an important part of the oiling journey and we have all the products to clean and maintain your garden furniture. Looking after your oiled furniture can make it last a lifetime.
Cleaning
Daily cleaning is an important part of the aftercare routine and our Exterior Soap Ecospray is perfect for the job. It's a ready-to-use spray of our ecological soap with cleaning and nourishing effect. It is the handy, ready-to-use version of Exterior Soap. This spray is suitable for cleaning smaller surfaces like garden furniture The empty spray bottle can be refilled with Exterior Soap after use. This is both useful and ecological.
Products to use:
Exterior Soap Ecospray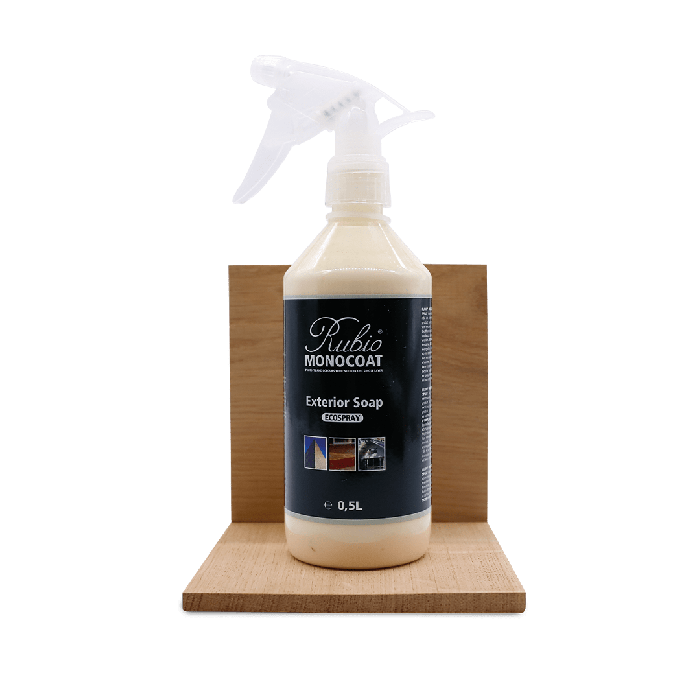 Step 1: Make the wooden surface wet.
Step 2. Shake the bottle to obtain a homogeneous mixture.
Step 3. Spray the product onto the surface.
Step 4. Clean the surface with a mop or a lint-free cloth.
Step 5. Allow the surface to dry for approximately 30 minutes.
HOW TO REFILL THE SPRAY:
Pour 150 ml Rubio Monocoat Exterior Soap into the spray and fill up to 500 ml with clear water.